In Memory
Margaret Behm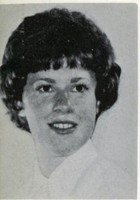 Margaret Louise (Peggy Lou) Behm, who inspired scores of students during her 40 years as a first grade teacher, died unexpectedly on March 23rd at her home in Canyon Lake, Texas. She was 65 and died of natural causes.
The daughter of Margaret and Joseph Behm, Peggy Lou was raised in Mill Valley, Calif. with her family of two brothers and five sisters.
She attended local grammar schools and graduated from Marin Catholic High School in 1961, at which time she covered her bright, curly red hair with the veil of the Holy Name sisters. She graduated with a Bachelor's degree from Holy Name College in Oakland, Calif., and began teaching in Catholic Elementary schools in Southern California. After leaving the convent in 1970, she continued her teaching vocation for a time in California before moving to Texas.
She received a Masters degree in bilingual studies from Texas State University, and for over 30 years, nurtured first graders at Crockett Elementary School in San Marcos. In 2005 she moved to the Wonderland School, a small alternative grammar school also located in San Marcos, where she worked until the time of her death.
Peggy Lou loved to travel and found relief from the hot Texas sun during summer vacations while cruising in the Caribbean and visiting the Bay Islands of Honduras. Friends said that she could read 10-20 books during those vacations, saving them up during the school year.
In addition to her father, Peggy Lou is survived by her seven siblings: Joseph Behm, Jr. (Melodie) of Larkspur, Calif., Ernie Behm (Marsha) of Mckinleyville, Calif.; Diane Horvath (Jeff) of Los Cruses, N.M.; Jeanette Edgren (Rick) of Orlando, Fla.; Arlene Biancalana (Mike) of Petaluma, Calif.; Virginia Behm of San Rafael, Calif.; and Phyllis Reinhard (Robert) of Novato, Calif. plus many nieces and nephews. The matriarch of the Behm family, Midge, passed away in 2005.